Movie Business 2 Edition 2022 Premiere!
---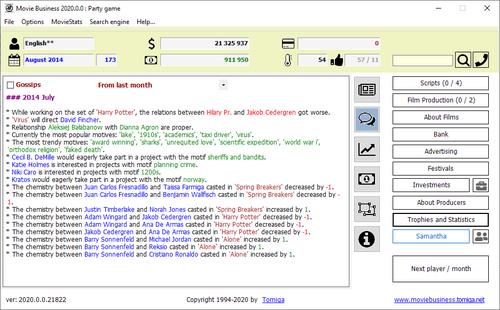 Editions 2022 Movie Business 2 is ready to download. However, before you proceed to download the file, a few summary words about what you will find in this version.
As I mentioned this time there are not too many novelties, but here are the most important of them:
A more detailed description of the changes can be found in version history
Some statistical information about the 2022 edition
Version 72 Creators' Kit containing over 5500 creators!
over 6000 reviews elements
almost 16 000 pictures of creators and cult characters
In case of problems
If you download/install you run into a problem with the Windows Defender check out This thread on the forum!
Note for users with high definition monitors
If you are using a high definition monitor (>1080p) or you have set the fonts in your system to size > 100%. You may have problems displaying windows correctly in the game. You will find the solution to this problem in a special post on the forum
If you have not heard about the Movie Business and you are here for the first time, you can also refer to the section Director's Cut and Help page, where you can find a lot of information that can help you in the early stages of exploring, this already quite extensive, games.
If you like the game I remind you of the possibility of Donations
And don't forget about Discord
Enjoy!
Files
Movie Business Edition 2022
131 MB
Feb 21, 2022